Members of the West Marin Fund's Advisory Council and Board of Directors met in late May for an update on activities and a report on concerns to address throughout West Marin.  Among them:  Affordable housing for West Marin workers, Latino leadership and engagement, diverse opportunities for youth and young entrepreneurs, cross-cultural appreciation for strong and harmonious communities, better access to services — especially transit in the north.
Here are some of our dedicated community leaders who attended: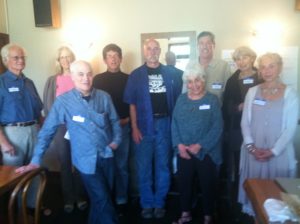 Michael Mery, Nancy Bertelsen, Murray Suid, Scoby Zook, Rich Clarke, Beth Perry, Ken Emanuels, Cindy Ohama, Harriet Moss.  (missing:  Steve Costa, Wendy Friefeld).