Members of West Marin's Latino and Anglo communities gathered January 26th to celebrate our common love for the" table of our grandmothers".  The third La Mesa de las Abuelas in as many years, this event sought to convene leaders and emerging leaders to create shared understanding of what we care about… over a fabulous pot-luck dinner.
From sopas and chicken mole, to Boston baked beans and lasagna, guests celebrated their ancestral culinary dishes, and told some heartwarming stories about each dish… and grandmother.
Said Michael Mery describing his family's simple scalloped potato dish:  "My mother and grandmother migrated from Wales in 1913 to New York and then to California.  I believe we are all immigrants in this room, and I'm proud and lucky to be here."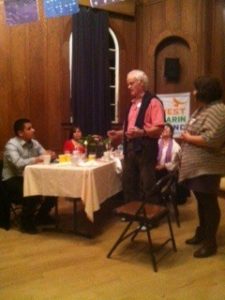 Michael Mery, Maria Niggle, Connie Mery, Agustina Martinez and her son Jorge Martinez at La Mesa de las Abuelas.
Marisol Salgado said that when her mother died, her grandmother painstakingly prepared a special dish for Marisol's birthday… a dish that evokes poignant emotions to this day.
And Cindy Ohama, stepping in to prepare a cookie recipe that Rebecca Porrata had hoped to bring, realized that it was the same recipe that her own grandmother prepared, except in a different shape.
Now there's a metaphor for the evening:  we all have the same ingredients, just a little different appearance.
Watch for details of the follow-up to this event:  most likely another Mesa de las Abuelas later in the year, and a Leadership Training for those wanting to offer more skilled service in West Marin.
Thanks to The Dance Palace, to West Marin Community Services and to a wonderful committee of women* who made the evening a success.
*Ariana Aparicio, Wendy Friefeld, Dolores Gonzales,Agustina Martinez, Mariluz Mora, Maria Niggle, Rebecca Porrata, Catherine Porter, Socorro Romo, Marisol Salgado