April 2014:  "What You Need Most to Do Your Work"
In April of 2014 the West Marin Fund made 34 grants totaling $66,200 to support non-profit work in West Marin.  The goal:  to address unmet needs of our non-profits, perhaps funding things that are essential but that fall outside the context of other funding sources.
The proposals we received included requests for new fundraising software, for consultants to move activities to the next round of excellence — and for basics like a new sterilizing dishwasher at a preschool, after school activities, or scholarships for kids at camp.
The Fund's board of directors sought additional funds to build our $50,000. pool for this round, and allocated an additional $16,200. to get nearly 30% more into the community in this Round. We thank all the generous donors of the West Marin Fund who allow us to move their contributions to these carefully vetted and worthy organizations.  Thanks too, to our Grants Committee, for pouring over 40 proposals and making the hard decisions on small grants that will have impact.
To download our press release about these grants, click here: Rd 3 Press Release final
What does it take to change a lightbulb?  A grant from the West Marin Fund, according to Gallery Route One in Point Reyes Station.  They used their Round 3 grant to replace gallery lighting with LED-bulbs, saving $140 a month in energy costs.  Here are GRO members adoring their new lights!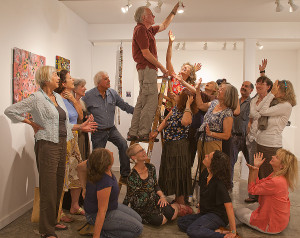 photo by Tim Graveson