A great time was had by all at the Dance Palace on December 16th, 2016, as we celebrated Supervisor Steve Kinsey and his wonderful legacy of thoughtful leadership for West Marin.  The event featured inspiring remarks from Supervisor Kinsey, an array of local culinary delights, and a fantastic performance by local musicians and dedicated nonprofit sector leaders, The 501(c)3s. Nearly 200 people attended and helped to raise $8,000 in Steve's honor!  These funds will go directly to our next round of grants, coming soon in Spring 2017.
We are deeply grateful to the many volunteers who helped make this event happen; to our nonprofit partners who collaborated to plan the event including CLAM, Coastal Health Alliance, Dance Palace,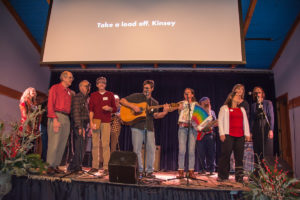 KWMR, MALT, Point Reyes Library, San Geronimo Valley Community Center, Tomales Bay Youth Center, West Marin Community Services, and West Marin Senior Services; to the numerous local purveyors of delicious foods and beverages who donated their treats and time; to our marvelous Master of Ceremony, Dr. Mike Witte; to Carlos Porrata and Art Rogers for their support and artistry in memorializing the event; to Steve Siegel, Debbie Daly, and The 501(C)3s; to our event coordinator Suzanne D'Coney; and especially to Supervisor Steve Kinsey who graciously gave us the opportunity to celebrate him, and whose express wish it was that this event be a fundraiser for our local nonprofits!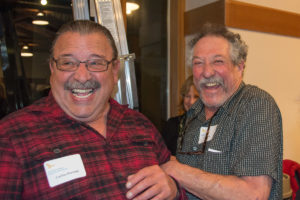 Most of all, we are grateful to YOU, our donors, who came out to support the event, as well as those who couldn't be with us in person but who gave generously to honor Supervisor Kinsey and augment our next round of grants.  Thank you all for an amazing evening that highlighted the very best of 
West Marin!!
For more fun photos from the event, click here.