In summer 2021, West Marin Fund conducted an online survey of thirty-seven West Marin nonprofits. The purpose of the survey was to acquire information to help funders and policymakers provide West Marin's nonprofits with the best support and resources possible. The survey will be repeated annually for the next several years. The following results were compiled and analyzed by a local nonprofit consulting firm, Mission Met.
Key Findings
Mixed Nonprofit Results in 2020
Financially, on balance, the nonprofits ended the year stronger than 2019.
The wildfires and Covid pandemic negatively impacted the programming of many nonprofits—though many increased their emergency response services.
The West Marin nonprofit sector saw significant growth in focus on diversity, equity, and inclusion efforts. 89% of respondents are addressing DEI issues in their own organizations.
Staff and board member numbers dropped slightly; the number of volunteers dropped by 25%.
A Virtual Pivot
Not surprisingly, nonprofits were forced to adapt their services in a virtual world. Program delivery, board meetings, and fundraising were significantly shifted online.
Volunteer Impact
Due primarily to Covid, the nonprofits lost roughly $2.5M in in-kind volunteer services due to a 25% reduction in volunteers.
Metrics
Monitoring and evaluation are weak in 75% of nonprofits, so there is a clear opportunity to improve the use of key metrics as a strategic tool.
Collaboration
West Marin nonprofits are especially proactive in collaborating with each other and numerous other organizations, including jointly advancing racial justice and equity in West Marin.
---
"This annual survey of West Marin nonprofits provides very useful information for funding agencies and service providers."

—District Supervisor Dennis Rodoni, County of Marin
---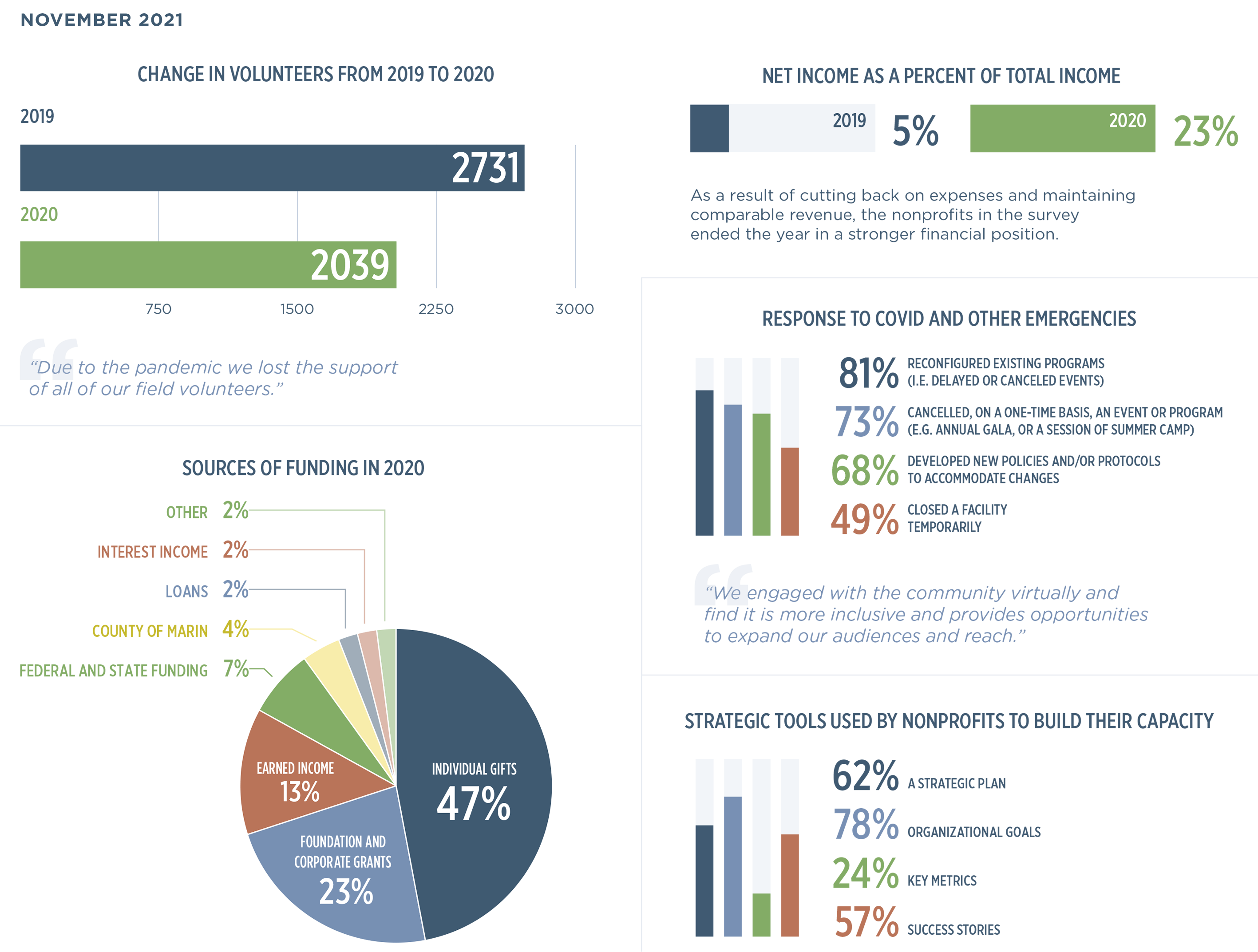 ---