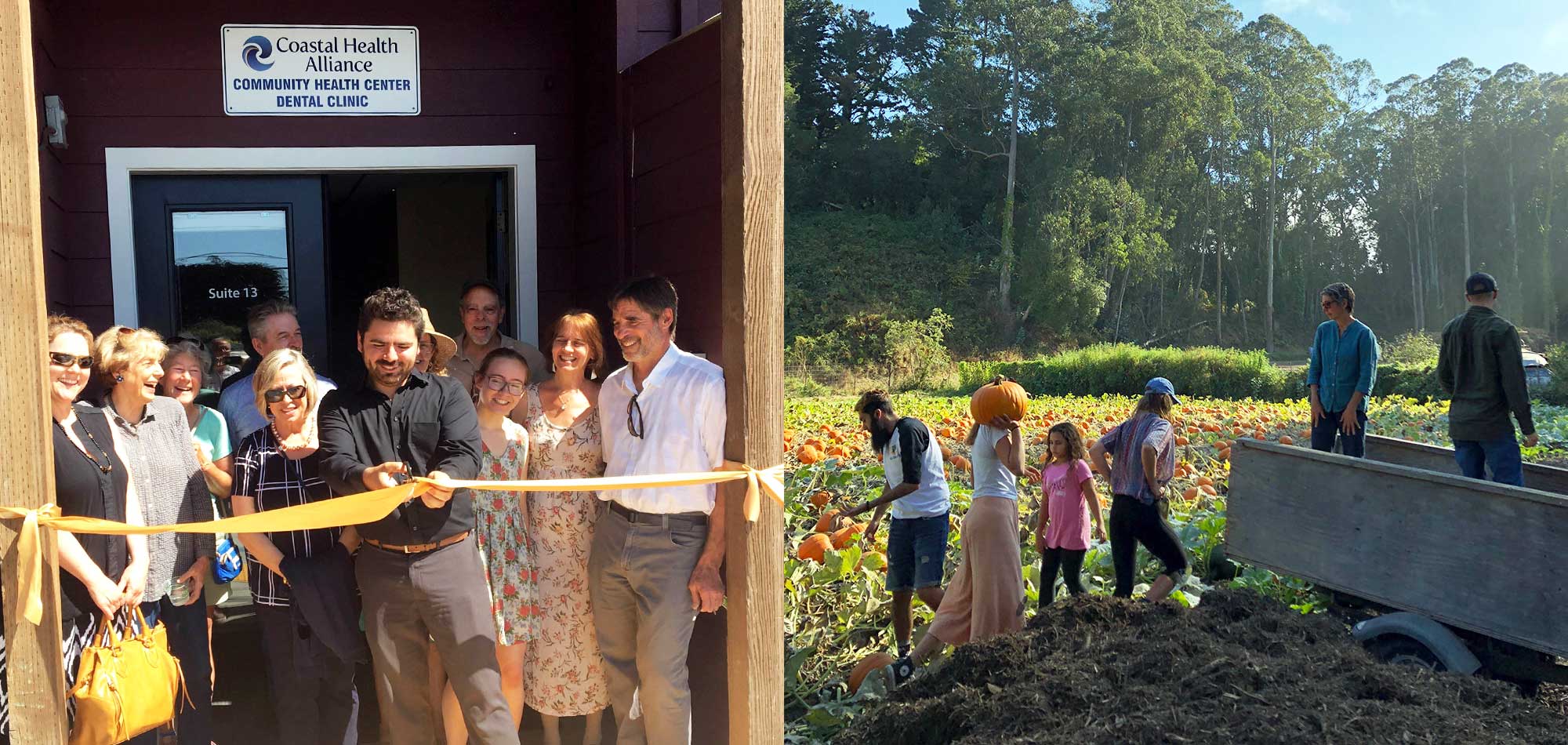 $169,473 was awarded to 25 organizations that provide programs and services to West Marin communities. Nonprofit organizations serving West Marin play an important role in responding to a wide array of community challenges. Their programs and services remain vital as we emerge from the COVID-19 pandemic and continue to navigate ongoing economic disparity, climate challenges, and geopolitical uncertainty.
---
$219,750 was awarded to 26 nonprofit organizations to improve their program and service delivery in unincorporated West Marin. The quality and dynamism of these services are vital as we continue to cope with the COVID-19 pandemic and struggle with rising costs, climate impacts, and political uncertainty.
---
$209,549 was awarded to 29 organizations that are responding to the social, economic, and health consequences of the COVID-19 pandemic in West Marin. This grants round recognizes the ongoing distress faced by many people who live, work and study here, the important role that nonprofits play in supporting and assisting them, and the organizational challenges that nonprofits themselves face in navigating challenging times.
---
$160,455 was awarded to 24 organizations to support organizational stability during a time of rapid change. The nonprofit sector plays an important role in ensuring the health and well-being of all who live, work and visit in this unincorporated region with ongoing essential services and responding to increased demands during times of crisis. Nonprofit staff, board and volunteers often face difficult situations involving members of the community, workers and visitors, yet frequently lack the tools and resources to address them. These grants provide much-needed, hard-to-get funding for nonprofit teams to more effectively serve their communities equitably, creatively and strategically.
---
$145,946 was awarded to 31 organizations and groups that seek to level the playing field in West Marin for disadvantaged and underserved people by addressing inequalities and taking actions for change in ways that are inclusive and collaborative. Funded activities include community outreach for affordable housing; transportation for isolated seniors to participate in community events; scholarship assistance for pre-school, summer reading, music and science programs; bi-lingual materials for education and mediation services; and inclusive arts for youth.
---
$100,000 was awarded to 24 nonprofits to support them in strengthening their effectiveness so that they are better able to respond to the opportunities and challenges facing West Marin. Successful proposals articulated wide-ranging approaches to supporting community health and vitality; encouraging land, water, and wildlife stewardship; strengthening community arts and culture; advancing educational opportunities for all; and promoting equity.
---
$64,500 was awarded to 28 organizations to support projects and activities that were greatly needed but for which it was hard to find funding. Successful proposals addressed a wide variety of needs, including environmental science and civic engagement for youth; vibrant and diverse community arts programming; critical technical and facility upgrades; fundraising effectiveness; and services benefitting young children, low-income families, and seniors.
---
$63,000 was awarded to 32 organizations serving the diverse needs of coastal West Marin. The numerous worthwhile projects included: camp scholarships, volunteer and intern trainings, technology upgrades and improvements, and innovative collaborations between partner organizations, along with many other small yet significant efforts that will strengthen coastal West Marin nonprofits and the communities they serve.
---
$55,000 was awarded to 26 organizations to support the capacity building efforts of our local nonprofits. This broad category included fundraising assistance, hardware upgrades, community outreach, board advancement, and pilot projects for organizations responding to community needs and providing critical services to benefit our children, youth, families, and seniors.
---
$55,000 was awarded to 27 organizations to help organizations realize high priority goals. This broad category included general things like professional development, operational improvements, community engagement, program expansion – and specific projects like the Waterdogs swimming lessons provided by West Marin Community Services, or the blood pressure cuffs at Coastal Health Alliance.
---
$55,000 was awarded to 25 nonprofits to help organizations improve the effectiveness of their communications. This broad category included professional training, strategic planning, database improvements, bilingual materials. The grant awards will support nonprofit projects ranging from affordable housing, to bilingual literacy, to technology upgrades to publicizing available services that improve the health of the communities.
---
$48,000 in 26 grants for work that would make our many non-profits "More Effective, More Efficient". The grants cover many activities: consultants for fundraising and improved websites, more mentors for West Marin schools next year, more participants in summer youth programs, greater outreach to volunteers for seniors… and a host of other important community-based services.
---
---
34 grants totaling $66,200 to support non-profit work in West Marin. The goal: to address unmet needs of our non-profits, perhaps funding things that are essential but that fall outside the context of other funding sources. Grants funded a range of basic nonprofit needs from new computers and database upgrades to camp scholarships and after-school programs; a sterilizing dishwasher at a preschool to move away from disposable dishes, to various consultants to help with fundraising and community engagement.
---
Thanks to a generous donor, the West Marin Fund announced a second round of small grants which focused on youth engagement through service in communities. We sped up the application and grants process to get grants to award- winners in time for summer projects at school's end. The Fund is pleased to announce it made 20 grants in this program, for a total of $50,000
---